Main Content
Beth Styne
DRE# 00815705
Beth Styne's dynamic 40-year career in real estate represents the culmination of her leadership and sales experience; she knows the Los Angeles luxury housing market and she knows what today's high-net-worth clients expect from a high-level agent experience.
Since 1979, Beth has amassed a loyal following of A-list celebrity clients and high-net-worth individuals who value her knowledge, discretion, professionalism, intelligence, negotiation skills and sense of calm. She has helped successfully negotiate several billion in closed real estate transactions over the course of her career.
Beth's years in the field took her from being a Sales Manager at Mimi Styne Associates to a leading real estate agent, top producer, and Branch Manager of Coldwell Banker Residential Brokerage in Beverly Hills. For nearly a decade, she served as Vice President and then Chief Operating Officer for Coldwell Banker Residential Brokerage, Greater Los Angeles, overseeing the company's top real estate agents and sales of the nation's most significant properties. She has also been involved with the sales of L.A.'s renowned architecturally significant properties by A. Quincy Jones, Frank Gehry, Wallace Neff, John Lautner, Paul Williams, Hal Levitt, and many others. The combination of her leadership skills and deep understanding of how today's luxury real estate deals get done has led to one of her proudest legacies to date: she is the co-founder and co-creator of the International Luxury Alliance, an elite networking group of top real estate professionals across the globe who meet twice a year to share information, build referral relationships and create marketing opportunities for their clients.
To this day, Beth's relationships both inside the United States and across the pond remain a distinct advantage passed onto her clients. Her reputation in the industry, along with her unmatched local market expertise and roster of career achievements make her a true real estate "powerhouse." 
A long-time resident of Beverly Hills and the Westside, Beth is actively involved in several local charitable foundations, including L.A. Loves Alex's Lemonade Stand, which raises funds for childhood cancer research, and Muttville, an organization that places senior dogs. She enjoys spending time with her family, which includes son Scott, daughter-in-law Cristela, three grandchildren and beloved Jack Russell, "Beanie." Her husband, Johnny Lee Schell, is a musician, composer, producer and recording engineer; when not in the recording studio, he can be found selling houses alongside his wife.
HP Meet the Team
Meet the
Team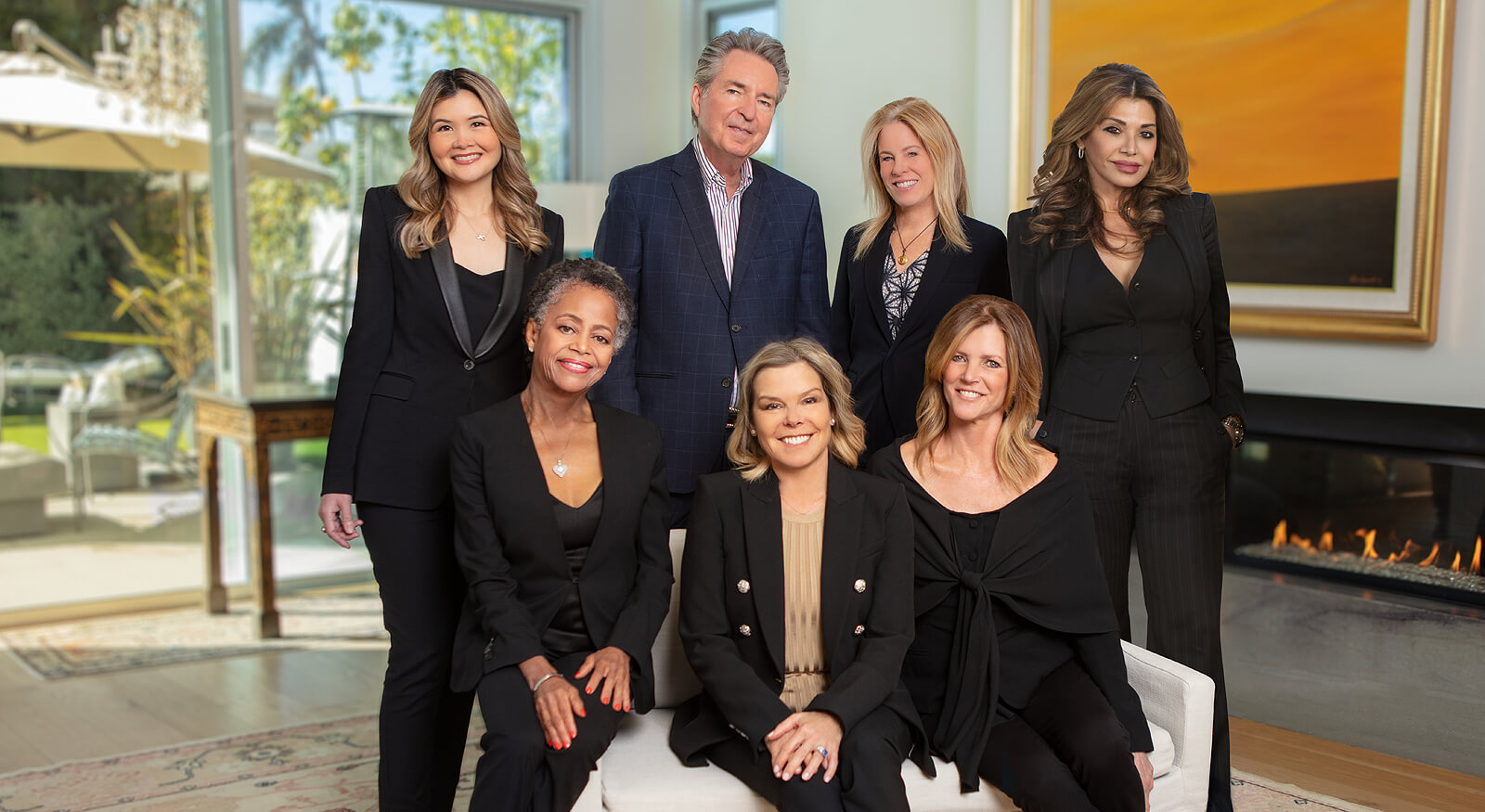 What Our Clients
Are Saying
"We had a wonderful experience during our real estate purchase with Beth. She has Infinite patience, knowledge of the different areas and markets, and was always available. I was looking for property for my daughter, and wanted to ensure she was in a safe neighborhood. Beth found us properties in the best areas and offered us honest opinions about their potential and desirability. When we finally decided on a property, Beth saved me several trips to Los Angeles by arranging to meet with various inspectors and homeowners in my stead. We are absolutely thrilled with the property and with the entire experience with Beth at our side. We look forward to dealing with her again in the future."
"When you call Ms. Styne be assured of the utmost in professionalism, integrity and personal service; the young lady whom I've known and worked with for so many years knows no other way."
"Everyone, if you are looking for a Realtor in Southern California, look no further than Beth Styne of the Beth Styne Group / Coldwell Banker in Beverly Hills. Beth is the consummate professional and I had THE BEST experience of any real estate transaction ever. Trust me, you will be so glad you called Beth. Great communication, amazing marketing, a quick sale in a challenging market, and over asking with multiple offers. Call Beth now!"
"Over the past 35 years we have had an opportunity to work with some outstanding realtors in three countries, but out of all of those professionals, Beth Styne is the hands-down best. Not only did she take the time to get to know us, she picked up on our needs and our priorities with incredible speed and sensitivity. Within hours she had provided us a list of available properties, each of which would have met our needs. Despite the inconveniences of COVID-19 she was able to get us in to see them within a day, and we were able close on a home that delighted us, at our price, within a week. And the experience could not have been more pressure free, more effortless, and, frankly, more fun. Escrow went smoothly because Beth actively shepherded the process, double-checking the paperwork and working with the sellers and escrow company to make sure our interests were completely looked after. But there is more to Beth than process or speed. Working with Beth is like working with your best friend. She is a champion, a counselor, a helper, and a concierge. By the time we were done, she made sure we knew the neighborhood, the best local service providers, the right painters and electricians to call, and even the best place to order pizza. And naturally, she is deeply knowledgeable not only of the fundamentals of real estate but of the nuances of every neighborhood and street - and it seems like every property - in the areas on which she focuses. In short, Beth Styne is the poster model for the National Association of Realtors, not a mere broker or salesperson, but a trusted advisor, counselor, and advocate focused on enabling our smooth transition into a new home, from search to perch. We will be looking for opportunities to work with Beth again, and to recommend her to friends, colleagues, and family. Trust me, you can do no better, anywhere."
Recent
Blog Entries
With peak buying season upon us, here's what analysts are expecting to see this year: Increasing Mortgage Rates It appears, depending on how the economic recovery progresses, that mortgage rates could continue to increase. Earlier in the year, rates were holding under 3%, but those rates have steadily increased over the past several weeks. As
Most homebuyers start the process anxious, excited, nervous, and some are downright terrified. It's natural. A home is the largest and most expensive purchase that most people will make in a lifetime.
Most homebuyers start the process anxious, excited, nervous, and some are downright terrified. It's natural. A home is the largest and most expensive purchase that most people will make in a lifetime.